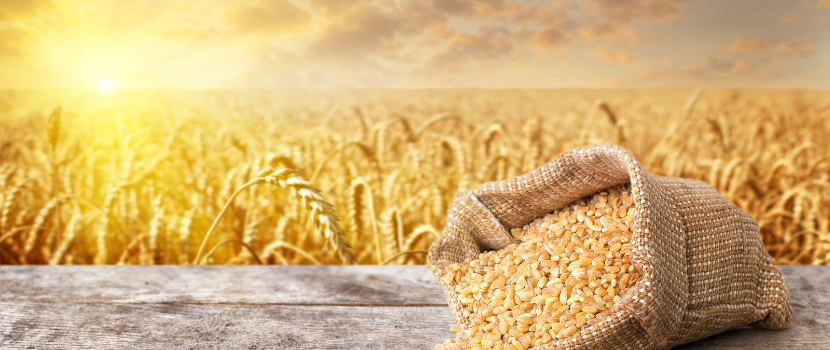 Wheat is a staple food crop that is grown and consumed worldwide.It is an important source of carbohydrates. When eaten as a whole grain,wheat is a source of multiple nutrients and dietary fiber. Wheat is used in wide variety of foods but mainly it is ground into flour to make bread. In India, it is one of the most important food grains and is grown in many states across the country. The country is also a major exporter of wheat, with exports reaching around 10 million tonnes in recent years.
The process of growing wheat in India begins with the planting of seeds in the fields. The seeds are typically planted in October and November and are ready for harvest by March and April . The crop is grown using a combination of traditional and modern farming techniques, with the use of fertilizers, pesticides, and irrigation playing a crucial role in ensuring a good yield.
Once the wheat is harvested, it is processed and cleaned before being packaged and exported. The cleaning process involves removing any impurities such as stones, dirt, and other debris from the wheat. The wheat is then sorted according to size, color, and quality.
The wheat is then milled to remove the outer bran layer and the inner germ layer, leaving behind the endosperm which is then ground into flour. The flour can be further processed to make different products such as bread, pasta, and biscuits.
India has a strong export market for wheat, primarily due to the high quality of the wheat produced in the country. The major export destinations for Indian wheat include countries in the Middle East, Africa, and Southeast Asia. The export of wheat is a significant source of income for farmers and plays a crucial role in the country's economy.
Overall, wheat is an important crop in India, both for domestic consumption and for export. The country's agriculture sector is supported by modern technology and techniques, leading to a high yield of high-quality wheat that meets the demand for both domestic and international markets. We at Interverse foods are one of the leading exporters of all varieties of wheat and have suppliers across India to meet your requirements. We have extensive quality control checks at various stages of the process from selection to sorting to packing to dispatching of the
product
. Please send in your
inquiry
or hit the
WhatsApp
button for more details.