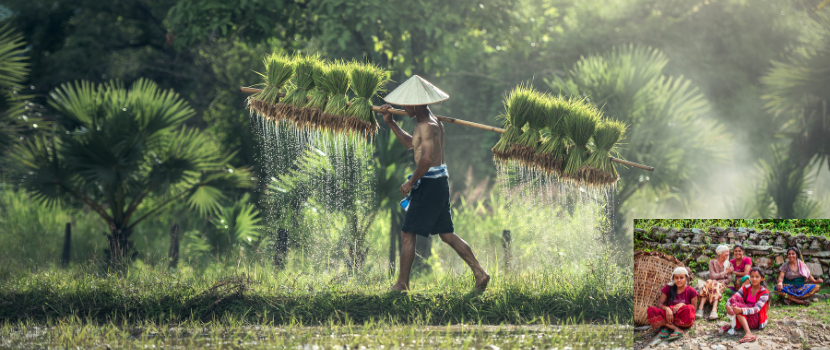 Rice, the King of all Grains, is one of the most consumed staple food across the world. A lot of hard work is put into the growth of these grains before it reaches to your plate.
India has the largest population of rice consumers; this is where 35% of the world's rice is produced and exported to 150 nations worldwide from. The most exquisite rice grains, including Basmati and non-Basmati varieties, are produced in India. According to studies, India exports over 20 different types of rice each year. Rice Global consumption has seen a slight increase over the past few years. In the FY 2021-2022 crop year, about 510 million metric tons of rice was consumed worldwide as against 437 million metric tons in the 2008-2009 FY year.
India's rice export industry, which is a booming export industry, not only generates money and revenue for the nation but also opens the door for new employment opportunities. Worldwide demand exists for Basmati rice. However, non-basmati rice has seen an upsurge recently due to the entry of new customers from countries like Malaysia and the Philippines. As demand from Southeast Asia has skyrocketed, India's rice export industry has accelerated. About 12 million tonnes of rice, including both Basmati and non-basmati varieties, are exported from the country each year.
Interverse Foods is one of the leading registered Indian exporters, who buy rice directly from these hardworking farmers and have our own quality control processed before we sell this to our valued customers. Our representatives are on the ground to collect the best products for you and hence we are able to provide you with our best available and competitive prices. Interverse Foods has earned a lot of reputation in a short span of time by serving the best to our customers. We are committed to serving the best. Please contact us or directly click on the WhatsApp button to reach out to us for any additional details. We will be delighted to help and serve you!
This entry was posted on January, 11, 2023 at 20 : 28 pm and is filed under Products. You can follow any responses to this entry through the RSS 2.0 feed. You can leave a response from your own site.