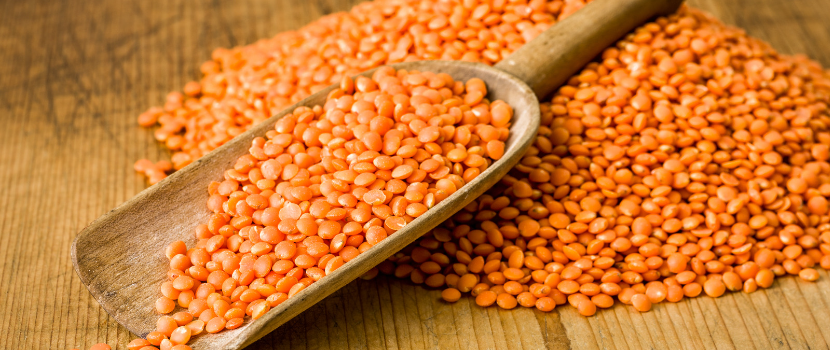 Red lentils are a type of legume that are typically small, reddish-orange in color, and have a mild, earthy flavor. They are often used in soups, stews, and curries, and can also be mashed and made into dips or spreads. Red lentils are a good source of protein, fiber, and various vitamins and minerals. They are also relatively quick-cooking compared to other types of lentils.
Red lentils, also known as Masoor dal, are widely grown in India. They are grown primarily in the northern and central regions of the country, including the states of Uttar Pradesh, Madhya Pradesh, Maharashtra, and Punjab. These states are major producer of red lentil in India. They are also grown in other parts of the country such as Gujarat, West Bengal, and Rajasthan. India is one of the largest producers and exporters of lentils in the world.
There are several types of red lentils grown in India, which vary in color, size, and texture. Some of the most common types include:
Sabut Masoor: This type of red lentil is whole and has a reddish-brown color. It is often used in soups and stews and takes longer to cook than split red lentils.
Chilka Masoor: This type of red lentil is split with the skin removed, and has a light orange color. It is often used in dals and curries, and cooks faster than whole red lentils.
Dhuli Masoor: This type of red lentil is split and skinned, and has a pale yellow color. It is often used in dals and curries, and cooks very quickly.
Masoor dal: This is the most common type of red lentil and is widely used in Indian cuisine. It is split and skinned, it is also known as "red lentils" or "split red lentils" in english and it has a light orange color.
Masoor Kali dal: This type of lentils is the black version of red lentils and is used in various dishes to give a unique texture and taste to it.
Red lentils are grown as an annual crop, typically planted in the spring and harvested in the fall. The process of growing red lentils typically involves the following steps:
Preparing the soil: The soil must be well-drained and have a neutral to slightly alkaline pH. The soil is usually prepared by tilling it to a fine tilth, adding organic matter, and fertilizing it with a balanced nutrient mix.
Planting: Red lentils are planted using a seed drill, or by broadcasting the seeds and then incorporating them into the soil with a harrow or cultivator. The seeds are planted at a depth of about 1-2 inches and spaced about 6-8 inches apart.
Watering: Red lentils require moderate to high amounts of water, so irrigation is often necessary during the growing season, particularly during periods of low rainfall.
Weeding: Red lentils are usually grown with a companion crop, such as barley, wheat or oats, to reduce the need for weeding.
Harvesting: Red lentils are ready to harvest when the plants turn yellow and the leaves start to fall off. The lentils are usually harvested using a combine harvester, which cuts the plants and threshes the seeds.
Drying and cleaning: After harvest, red lentils are dried in the field or in a special drying facility. Then they are cleaned to remove any dirt or debris, and sorted to remove any damaged or discolored lentils.
Storage: The cleaned and dried red lentils are then packaged and stored in a dry, cool place until they are ready to be sold or used.
Red lentils, also known as masoor dal, are commonly used in Indian and Middle Eastern cuisine. They can be used in soups, stews, curries, and dal dishes. They are also a good source of protein and are often used as a meat substitute in vegetarian and vegan dishes. Red lentils cook quickly and become soft and mushy, making them a good choice for thickening soups and sauces. They can also be ground into flour and used in baking.
Red lentils are a nutritious and healthy food that offer several benefits. Some of the benefits of red lentils include:
High in Protein: Red lentils are an excellent source of plant-based protein. They contain about 18 grams of protein per cooked cup.
Rich in Fiber: Red lentils are also a good source of dietary fiber, which can help with digestion and weight management.
Low in Fat: Red lentils are very low in fat, making them an ideal food choice for those trying to maintain a healthy weight.
Good Source of Iron: Red lentils are a good source of iron, which is important for maintaining healthy red blood cells and carrying oxygen throughout the body.
Rich in Other Nutrients: Red lentils are also a good source of other important nutrients such as folate, potassium, and manganese.
Heart-Healthy: Eating lentils regularly has been linked to a lower risk of heart disease and improved blood cholesterol levels
Low Glycemic Index: Red lentils have a low glycemic index, which means they can help regulate blood sugar levels, making them a good choice for people with diabetes.
Good for digestion: Red lentils are high in fiber, which is beneficial for promoting healthy digestion and preventing constipation.
India is one of the major exporters of red lentils worldwide and the export of red lentils from India is increasing year on year. According to a recent report, India exported around 1.5 million metric tons of lentils in 2018-2019, with red lentils accounting for a significant portion of these exports. The value of these exports was also quite high, with red lentils alone accounting for around $900 million USD. . We at Interverse foods are one of the leading exporters of all types of Red lentils and have suppliers across India to meet your requirements Please send in your inquiry or hit the WhatsApp button for more details.