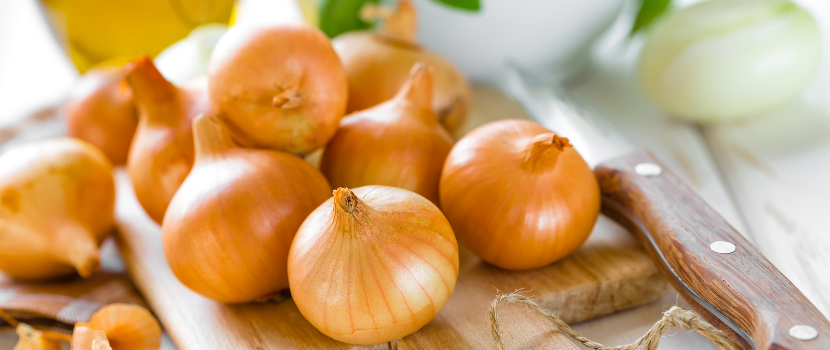 Onions are cultivated and used around the world as a food item for the depth and flavour they add to savoury dishes and usually eaten raw or used in cooking in whole, pieces or paste. They are endlessly versatile and are a nutrient-dense food, meaning that they are high in vitamins, minerals, and antioxidants while being low in calories. LIttle is known from where the origin of Onion is as no ancient documents exist to be able to tell this. However, there are traces of ancient Chinese and Egyptian excavations to conclude that they existed way back in 5000 BC.
Onions are available in 3 color varieties and grown in different sizes
Yellow / Brown - are the sweater ones and used in European cuisines
Red/Purple - are the ones used in day to day cooking in Asian cuisines and the most common variety. They can also be eaten raw.
White - are traditionally used in Mexican cuisines. These are milder in flavor and turns golden when sauteed brining in a sweet flavor to the dishes
The use of onion is not limited to cooking and it has non-culinary and medicinal use too, hence making it is one of the most highly exported items in the market. Onions extracts are used in making medicines. Onion oil is used in Europe and the UK as a pesticide against carrot fly against aromatic flower plantations. They are also used in the production of hair oil.
India is the 2nd largest exporter of Onion in the world. In the fiscal 2022 India exported approximately 1.5 million metric ton. We at Interverse foods are one of the leading exporters of onion and have suppliers across India to meet your requirements. We have extensive quality control checks at various stages of the process from selection to sorting to packing to dispatching of the product. Please send in your enquiry or hit the WhatsApp button for more details.
This entry was posted on January, 16, 2023 at 12 : 06 pm and is filed under Products. You can follow any responses to this entry through the RSS 2.0 feed. You can leave a response from your own site.