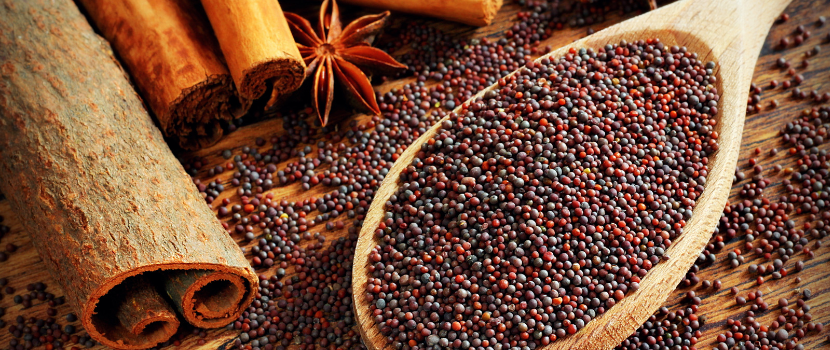 Mustard seeds are the small, round seeds of the mustard plant, which is a member of the cruciferous family. The seeds are used as a spice in cooking, as well as in the production of mustard condiments. In India, mustard is grown primarily in the states of Punjab, Haryana, Uttar Pradesh, and West Bengal. There are three main types of mustard seeds: black, brown, and white. Black mustard seeds are the smallest and have the strongest flavor, while white mustard seeds are larger and have a milder flavor. Brown mustard seeds are intermediate in size and flavor.
Mustard seeds are used worldwide as a spice in cooking and as a key ingredient in the production of mustard condiments. They are a popular ingredient in many traditional dishes, such as Indian curries and pickles, as well as in European and American cuisine. The seeds can be ground and mixed with water, vinegar, or other liquids to make mustard pastes or sauces. Mustard is also used as a rub for meats and as an ingredient in salad dressings, marinades, and sauces.
In addition to culinary uses, mustard seeds are also used for medicinal and industrial purposes. Mustard oil, which is extracted from the seeds, is used in cooking, as well as in soaps, candles, and other household items. The oil is also used in the production of biodiesel. Mustard seeds are also used in traditional medicine to treat a variety of ailments, such as coughs, colds, and rheumatism.
India is a major producer and exporter of mustard seeds. The country is known for its high-quality mustard seeds, which are in high demand in the international market. According to the India Brand Equity Foundation, India is the third-largest producer of mustard seeds in the world, behind China and Canada. The country produces around 7 million tonnes of mustard seeds annually.
The major export destinations for Indian mustard seeds are Bangladesh, the European Union, and Sri Lanka. Indian mustard seeds are also exported to other countries, including the United States, Canada, and Australia. The export of mustard seeds is a significant source of revenue for the Indian agricultural sector and provides livelihoods for many farmers in the country.
In recent years, export of mustard seed from India has grown. As per the data available, India exported around 4.5 million tonnes of mustard seed in 2020-2021 and the major importers of mustard seed from India were Bangladesh, Vietnam, Sri Lanka, and the Netherlands. We at Interverse foods are one of the leading exporters of Mustard seeds and have suppliers across India to meet your requirements. We have extensive quality control checks at various stages of the process from selection to sorting to packing to dispatching of the product. Please send in your inquiry or hit the WhatsApp button for more details