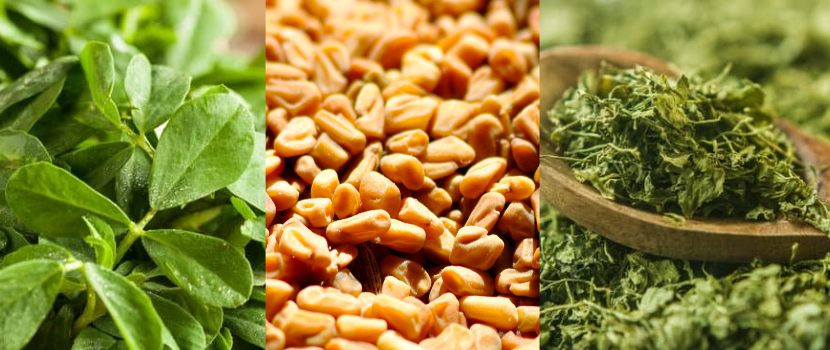 A Brief but 360 Overview About Fenugreek
Botanical name of Fenugreek is Trigonella foenum-graecum it is subfamily of Papilioacae of the family of Leguminosae (beans). It is known as methi in Hindi. Fenugreek has its origins in western Asia & South Europe. It is cultivated for food and grows best in region having well drained, productive soil with bountiful sunlight. Some of the largest producers of fenugreek seeds in the world are Indian, Pakistan & Afghanistan. These three countries contribute more than 85% of their total fenugreek production in the world. Also known as Greek Hay, Greek-Clover, Bird's Foot, and Methi seeds, Fenugreek is a well-known herbaceous plant. Belonging to the family of pea, it has its origins in West Asia and South Europe.
Fenugreek has a wide range of uses, both in traditional and modern medicine, as well as in cooking, cosmetics, and agriculture. Some of the most well-known uses of fenugreek include:
Culinary: Fenugreek seeds and leaves are commonly used in dishes from the Indian subcontinent, Middle East, and Mediterranean regions. The seeds are used as a spice, and the leaves are used as herb.
Medicinal: Fenugreek has been used in traditional medicine for centuries to treat a variety of ailments, such as diabetes, high cholesterol, and constipation.
Agricultural: Fenugreek is a legume crop and it is used as a green manure. It is also used as a forage crop for livestock.
Cosmetics: Fenugreek has been used for its cosmetic properties for centuries, particularly in Ayurvedic and Middle Eastern medicine. Fenugreek seed oil and powder are used in hair care products, and also in skincare products for their anti-inflammatory properties.
Industrial: Fenugreek seeds are used in the production of artificial maple flavourings and as a source of mucilage.
Feeding: Fenugreek is used as a feed for livestock due to its high protein content.
Fenugreek, a medicinal herb, is cultivated worldwide as a semiarid crop. Its seeds and leaves are common ingredients in many dishes across the globe. Commonly known as methi, it is a popular ingredient in many Indian dishes and also in home remedies. Fenugreek seeds and leaves are strongly aromatic and flavorful. The seeds are bitter in taste, but lose their bitterness if lightly roasted. Fenugreek is also known by a variety of other names, depending on the region or culture. Some common names include Methi (in Hindi), Uluhaal (in Sinhalese), Hilbeh (in Arabic), Greek hay seed, Fenugreek seed, Greek clover, and Fenugreek leaf. Bird's foot, Foenugreek, Fenugreek, Fenugreek seed, Fenugreek leaves, Fenugreek sprouts. There are two types of Fenugreek are Greek and Indian Fenugreek.
History
India has marked by its dominant position in world production and export of Fenugreek seeds. Within India Rajasthan accounts for its largest cropped area and production. The fenugreek plant is an annual herbaceous forage legume, which is used for food in the form of its seeds as spices, and its leaves as a vegetable. It is also used as a medicinal herb in several Ayurvedic formulations for treatment of dry skin, boils, hair loss and so forth.
The fenugreek plant features tiny white flowers, green leaves, and pods sheltering tiny golden-brown seeds. The plant generally grows up to a height of around 2 to 3 feet. The seeds have a nutty and mildly sweet flavour. Fenugreek leaves and seeds have medicinal properties and have been used in traditional medicines since time immemorial. The seeds (both in whole and powdered form) are also used as a key culinary ingredient and are a common household spice. Fenugreek also has a wide range of other industrial uses that have been discussed in the below points.
Production
Fenugreek production is typically done through planting and harvesting the seeds of the fenugreek plant. The process involves the following steps:
Preparing the soil: The soil should be well-drained and have a pH between 6 and 7.5. Organic matter such as compost or well-rotted manure can be added to improve soil fertility.
Planting: Fenugreek seeds are usually planted directly into the soil, about 1/2 inch deep. They should be planted in rows, with the seeds spaced about 6 inches apart. The seeds should be planted in the late spring or early summer, after the last frost.
Watering: Fenugreek needs regular watering, especially during dry spells. It should be watered deeply and regularly to keep the soil consistently moist.
Fertilizing: Fenugreek benefits from regular fertilizing with a balanced fertilizer, such as 10-10-10.
Harvesting: Fenugreek is ready for harvest about 50 to 80 days after planting, depending on the variety. The seeds are mature when the pods turn brown and start to split open. They should be harvested by hand or with a sickle before they split open completely.
Drying: After harvesting, the seeds should be dried in the sun for several days until they are completely dry. Once dry, the seeds can be stored in an airtight container for later use.
Threshing: The dried seeds are threshed to separate the seeds from the chaff.
Cleaning: The seeds are cleaned to remove any debris, dust, or other impurities.
Grading: The cleaned seeds are graded based on size, shape, colour, and other characteristics to ensure quality.
Packaging: The graded seeds are packaged in airtight containers or bags to preserve their quality and shelf life.
Nutrition Profile of Fenugreek Seeds
Fenugreek seeds have numerous health benefits and are used as an alternative medicine to combat many health problems. Fenugreek seeds are a good source of Fibre, calcium, Protein, lecithin, minerals (like iron, potassium, zinc, and magnesium) vitamins, and photochemical. These seeds help in reducing cholesterol, regular bowel movements, controlling blood sugar and fighting diabetes, preventing constipation, and many others. These seeds also have anti-inflammatory and antioxidant properties. Fenugreek seeds are an excellent source of methionine, an essential amino acid that is important for healthy skin, hair, and nails. Lecithin present in these seeds is important for maintaining healthy cell membranes and supporting the nervous system. Fenugreek leaves are a good source of vitamin K as well.
Here is the estimated nutrition content in 100 grams of these seeds:
| | | |
| --- | --- | --- |
| Contain | Value | Unit |
| Carbohydrates | 58.35 | Gm |
| Protein | 23 | Gm |
| Fiber | 24.6 | Gm |
| Vitamin C | 3 | Mg |
| Potassium | 770 | Mg |
| Sodium | 67 | Mg |
| Calcium | 176 | Mg |
| Copper | 1.11 | Mg |
| Zinc | 2.5 | Mg |
| Magnesium | 191 | Mg |
| Manganese | 1.228 | Mg |
| Iron | 33.53 | Mg |
Fact about Fenugreek
Fenugreek is a yearly Crop.
The taste and smell of fenugreek coincide to that of burnt sugar.
The bitter taste of fenugreek reduces when it is on display to heat.
Roasted fenugreek is an excellent alternate to coffee.
A multitude of fenugreek stashes has been discovered in the tombs of the Egyptian pharaohs.
it is called 'Greek Hay' in Latin, as fenugreek was used as an animal fodder by the ancient Romans and Greeks.
Fenugreek benefits the gut and respiratory health.
Dried fenugreek used as insect repellent.
Fenugreek has a wide range of other industrial uses, apart from food and beverages,
Owing to its plentiful medicinal properties, fenugreek is used in many dietary supplements.
It is used in the production of baked goods, ice creams, soft drink and candies.
It is used in the manufacture of shampoo and soap in beauty product industries.
It propagates through seeds.
fenugreeks Seeds Export from India
India is one of the major producers and exporters of fenugreek in the world. According to the data from the Indian Spices Board, India exported around 37,000 metric tons of fenugreek seeds in the financial year 2020-2021. The top destination countries for Indian fenugreek exports are Egypt, Bangladesh, UAE, and Saudi Arabia.
Interverse Foods - Best Indian Exporter of fenugreeks Seeds
Interverse foods become best & preferred place for buyer to import fenugreek seeds, as we are Rajasthan based company and Rajasthan is toping the list of fenugreek production in the world. We have best quality of fenugreek seeds which collected by our ground team to ensure best quality of the product. India is known for its high-quality fenugreek seeds. Fenugreek exports from India are mainly in the form of seeds, which are used as a spice and ingredient in food products. The seeds are also used for extracting oil and for making herbal and ayurvedic medicine. The seeds are cleaned, graded, and packed to ensure quality before export. We at Interverse foods are one of the leading exporters of Fenugreek seeds and have suppliers across India to meet your requirements. We have extensive quality control checks at various stages of the process from selection to sorting to packing to dispatching of the product. Please send in your inquiry or hit the WhatsApp button for more details.