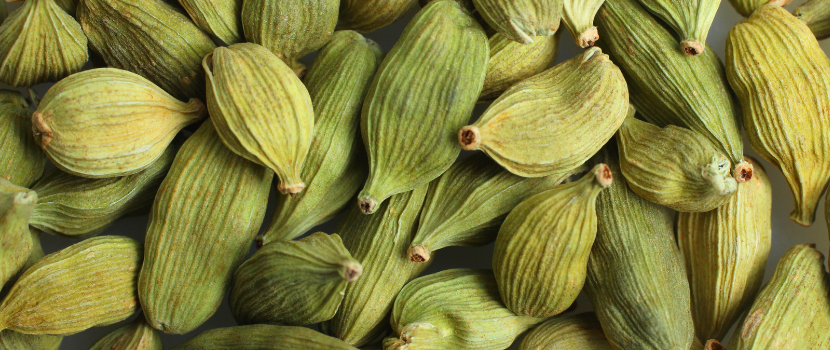 Cardamom is a spice made from the seed pods of certain plants in the ginger family. It is commonly used in Indian and Middle Eastern cuisine, and is considered to be one of the world's most expensive spices by weight. It has a strong, unique taste, with an intensely aromatic, resinous fragrance. Cardamom is used to flavor both sweet and savory dishes, and is also used in traditional medicine as a digestive aid.
Cardamom is native to the East regions, specifically the Western Ghats of southern India and Sri Lanka. Cardamom is also found in some parts of Guatemala and Mexico, where it is known as "cardamomo" and is used in a similar way as in Indian cuisine. It is also grown in Central America and tropical Asia.
Cardamom has been used for centuries in Ayurvedic medicine, and it was also highly valued in ancient Egypt, where it was used as a perfume and as a flavoring for foods and beverages. The spice was also highly prized by the ancient Greeks and Romans, and it was used as a form of currency in some cultures.
It was also traded along the ancient spice route that passed through the Middle East and reached Europe, which helped to spread its use and cultivation to other parts of the world. Today, it is widely used in many cuisines and is considered a staple spice in many households.
There are two main types of cardamom: green cardamom and black cardamom.
Green cardamom: This is the most commonly used type of cardamom and it is known for its sweet, aromatic flavor. Green cardamom is produced by harvesting the seed pods of the plant when they are still green and unripe. The pods are then dried in the sun to remove any moisture and retain the green color.
Black cardamom: This type of cardamom has a smoky, camphor-like flavor and is used primarily in savory dishes. Black cardamom is produced by harvesting the seed pods of the plant when they are fully ripe, then they are dried over an open fire or on a stove, which gives them the smoky flavor.
In India, the major production of cardamom happens in the Western Ghats of southern India, particularly in the states of Kerala and Tamil Nadu. The crop is grown on smallholder farms, and is mainly grown under the shade of natural vegetation, such as the coconut and areca palm. The crop is mostly grown under the traditional method of farming, where farmers use organic fertilizers and bio-pesticides. After harvesting, the cardamom pods are cleaned, sorted, and graded according to size and quality before they are packaged and exported.
Cardamom is a versatile spice that is used in a variety of ways, including:
Cooking: Cardamom is commonly used in Indian, Middle Eastern, and Scandinavian cuisine to flavor curries, stews, and rice dishes. It is also a popular ingredient in spice blends such as garam masala and baharat.
Baking: Cardamom is a popular spice in baking, and it is used to flavor cakes, breads, and pastries. It is also used to make traditional Scandinavian and Middle Eastern pastries such as kanelbullar and baklava.
Beverages: Cardamom is a popular spice in traditional beverages such as chai, coffee and tea.
Medicinal: Cardamom is used in traditional medicine as a digestive aid and to relieve respiratory problems. It is also used to freshen breath and as a mouth freshener.
Aromatherapy: Cardamom essential oil is used in aromatherapy, as it is believed to have a calming and uplifting effect on the mind and body.
Perfumery: Cardamom seed oil is used in perfumery, and it is said to have a warm, spicy and refreshing aroma.
Cardamom is believed to have a number of health benefits due to its high content of antioxidants and other beneficial compounds. Some of the potential benefits of cardamom include:
Digestive Health: Cardamom is known to have carminative properties, which means it can help to relieve gas and bloating in the digestive tract.
Respiratory Health: Cardamom is traditionally used to help clear mucus from the lungs, which may help to relieve symptoms of bronchitis and asthma.
Anti-inflammatory: Cardamom has anti-inflammatory properties which may help to reduce the risk of chronic diseases such as heart disease and cancer.
Antioxidant: Cardamom contains high levels of antioxidants, which can help to protect the body from damage caused by free radicals.
Blood Pressure: Cardamom may also help to lower blood pressure and improve circulation.
Oral Health: Cardamom has been found to have antimicrobial properties, which may help to prevent cavities and other oral health problems.
India is one of the largest producers and exporters of cardamom in the world. According to the data from Indian Spices Board, India exported around 6,000 - 7,000 metric tonnes of cardamom annually, with the major destinations being the Middle East, Europe and USA. The export value of cardamom from India is around $50-60 million.
India faces stiff competition from other cardamom-producing countries, particularly Guatemala, which is the largest producer of cardamom in the world. Despite this competition, India continues to be a major player in the global cardamom market due to the high quality of its cardamom and the long tradition of growing and exporting the spice.We at Interverse foods are one of the leading exporters of Cardamom and have suppliers across India to meet your requirements Please send in your inquiry or hit the WhatsApp button for more details.